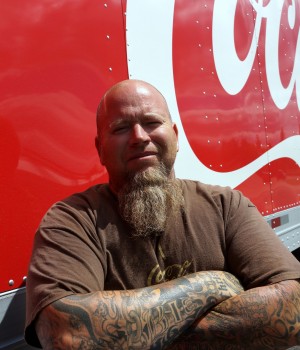 Position
Driver for Coca-Cola
Coca-Cola Mechanics & Drivers Thank Local 332 For Their Representation
---
My name is Mark Newton. I have been employed as a truck driver delivering Coca-Cola products for over eighteen years and this is my third year representing the Distribution Department employees as their Union Steward.
I really enjoy my job. It's a hard job, but a rewarding one.
The simple fact is this job would not be as rewarding or enjoyable if we weren't Teamsters. I often say that I would not want to work at Coca-Cola if I couldn't be a Teamster. Corporations are trying to take more and more rights away from their workers and it's more important than ever to be involved in a union, especially the Teamsters.
Coca-Cola has a lot of non-union facilities as well and they don't share the same benefits that the union facilities have. Their management treats them worse and they have a lot of uncompensated work that gets thrown at them. At Teamsters Local 332 we don't have those worries because if we show up and do everything we're supposed to do, our Local has our backs! I think it's very important to be pro-union!
At my Local 332, we have very dedicated, hard working people from the President to the office staff. Our Business Agents are there at the drop of a hat for whatever problems we can't solve in house. I feel as the Union Steward it's very important to lead by example from your work ethic, to how you deal with people, especially management. There are over 60 drivers and mechanics that I am responsible for representing.
I do my best to make decisions that will benefit everyone.
That's what I think it means to be a Teamsters union steward!
Mark Newton